What is
ParisRegionFP?
Lifestyle, culture, architecture, history, green spaces, gastronomy, education, world-class research and industrial infrastructures in affordable setting... the Paris Region is one of the most exceptional places to live and thrive.
The Paris Region Fellowship Programme (ParisRegionFP) contributes in this dynamic by strengthening the research capacity and international influence of the Paris Region, in France :
To attract international leaders in research and innovation
To provide intersectoral mobility, professional training and career development measures for these outstanding researchers
Find out more about Paris Region possibilities : Chooseparisregion.org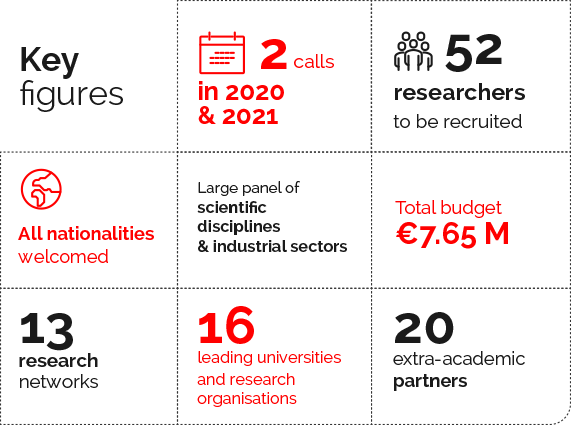 Why to

apply?
Recruitment conditions
Benefit from a 2-year post-doctoral research fellowship with a minimum gross salary of 4740€/ month, and supplementary budget for research and travel expenses
Training programme
Develop technical and transferable (non-research related) skills thanks to training carried out by professional partners
Individual-driven mobility
Develop your research topic and choose your host group among the renowned Paris area research organisations
Download - XLS 4.3Mo
Prestigious environment
Be part of world-class research environment, with exceptional infrastructure capacities
Increase networking possibilities
Career development
Get mentoring & career development support
Benefit from secondment opportunities both in academic and non-academic sectors
Quality of life
Live in Paris region thanks to facilitated logistic and welcoming services
Get support provided for accompanying family members
Research networks -

THE DMIs

Paris Region represents 40% of French scientific forces. The fellows will have access to prestigious laboratories and high quality research environment, in the frame of labeled "Domains of Major Interest". Each DMI corresponds to a strategic and thematic research network with a critical mass of researchers, laboratories and equipment.
Career

development & training
Career
development
Several measures to enhance the career development of fellows:
Dedicated supervisor
Specific mentoring scheme/ Personal Career Development Plan
Intersectoral secondments
Budget for international conferences and seminars
Training
programme
Ad-hoc created 9-day training programme on scientific transferable skills:
Welcome event, life of a researcher
Research management, leadership, critical thinking
Interdisciplinary networking event
Communication & outreach, digital skills
Final event, business in research, future career
Partners

of the programme
Higher Education and Research Organisations
Technology Transfer facilitator and Human Resources actors
In addition, Paris Region and its partners have a large international network for possible
international collaboration opportunities.
Ethics
Application
phase
Any ethical issues must be underlined by the candidates in the ethics self-assessment form as part of the application. All projects will be checked for ethics issues during the overall eligibility check.
Implementation
phase
Ethics approvals will - when required - be provided by the ethics committees of the partner institutions before the start of the fellowship. The fellows will implement the identified ethics requirements within their research projects and report on ethics issues regularly to Paris Region.
Welcome to

Paris Region